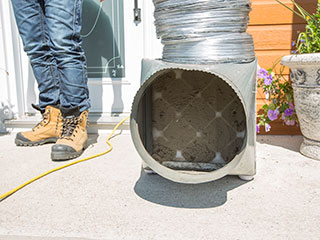 The cleaning of the outdoor unit is an important part of HVAC maintenance and should be done once or preferably twice a year. The first step is to disconnect the unit from the power grid of the house. This is also the most important safety precaution.
Vacuuming to Remove Debris

After removing the top grill, it is easy to vacuum the interior of the condenser unit. Debris stuck in tighter areas may need to be removed by hand. The coils should also be vacuumed from both sides. The key thing is to use a medium setting rather than a high one to protect them from damage. In general, in order to make condenser unit cleaning a simpler and easier job, you should clear an area of at least two feet around it. This will reduce the amount of vegetation debris getting inside the unit considerably.

Washing the Coils

There are specially formulated cleaners for the purpose. They are highly acoustic and produce fumes. That is why it is best to wear a protective mask and goggles plus gloves when applying the cleaner. The instructions are typically quite straightforward and easy to follow. The important thing is to apply a sufficient amount of the product to all coils. Usually, the cleaner will need some time to foam. Keep it for as long as recommended to get the best end result. It is worth noting that the cleaners designed for the outdoor unit must never be used for air duct cleaning or for the cleaning of the indoor unit.

Proper Rinsing

This is a part of the outdoor HVAC unit cleaning process which should never be skipped. Even if small traces of the potent cleaner remain on the coils, they can suffer great damage and you may be forced to replace the unit eventually. The best way to rinse the coils is to use the garden hose. Just make sure that the pressure is not too high. Otherwise, you may end up with bent coils. To avoid this problem, you must never use a pressure washer for the job. Rinse the coils thoroughly from all sides until the product is completely removed.
Finally, you should know that coil bending is a fairly common problem even if cleaning is done very carefully. The good news is that the HVAC unit repair isn't complex in this case. The coils can be straightened with a technique called combing. There are special plastic combs designed for the purpose.