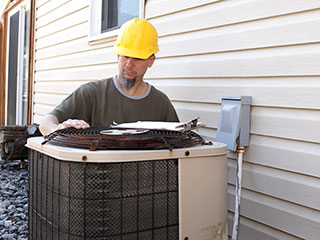 Well-trained HVAC Cleaners Near Me
If you wonder of what you can do to enhance indoor air quality at home, talk to us! As duct specialists, we certainly have plenty of things to share with you and even more services to provide.
The quality of your personal environment depends highly on the condition of air ducts and the HVAC unit. It's not accidental that our professionals are well-trained HVAC air duct cleaners. Once both ducts and the heating/cooling system at your house are properly cleaned, you can be sure that the system will work at its best capacity, you will not lose energy and you will enjoy breathing fresh indoor air.
We Clean HVAC Units Thoroughly
Our professionals are here to take care of your HVAC system. Has it been long since it was last checked or cleaned? You can be sure that our experts are specialists in HVAC unit cleaning and will take excellent care of all the components of the system.
Another reason for trusting Air Duct Cleaning in Albany, apart from our team's capacity to help you efficiently, is that our cleaners thoroughly examine all the components during the service. Customers are immediately informed if there is anything wrong with some particular components or there is need for other services. We like to keep you informed about the condition of the unit and its parts so that you will be able to make plans accordingly.
HVAC System Inspection Services
Such approach is also part of our HVAC maintenance service. By inspecting the unit regularly, our experts can keep it running for longer since all parts are cleaned and repaired at once and the customer is still informed if some components need replacement. Rest assured that during our cleaning services, all parts are properly cleaned.
In fact, our cleaners begin by taking care of the outside unit. We use the best equipment and special tools for condenser unit cleaning, as well as for the cleaning of all parts at the inner unit of the HVAC system as well. From fans and cooling fins to evaporators and tubes, all components are properly cleaned.
Regular HVAC Cleaning Keeps Dust & Dirt Out
HVAC unit cleaning is required since dust accumulation is unavoidable. Since the condenser unit stands outside, it collects great amounts of dirt. What we are trying to do is remove all debris, dirt and dust which might block air from being transferred to your house. Our services keep all those harmful elements from ending up in your indoor environment for the avoidance of contamination.
Call Us For Clean Indoor Air Now
Our company is in the indoor air quality business and can assure you that our team can take care of your HVAC unit needs to your complete satisfaction.
Need more information about our services? Need to make an appointment? Give us a call!