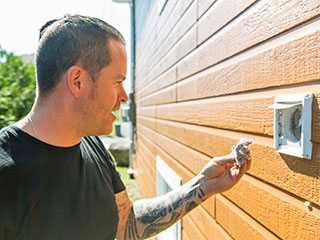 Dryer Vent Cleaning Is Our Expertise
What's important to us is to keep our customers safe and help them avoid serious problems with their dryers. With lint produced by the clothes & blocking the air from moving out of the ducts, the appliance is suffocating and there is danger of accidents. There is no need for you to go through such terrible times or even experience fires in the laundry room.
As experienced air duct cleaning specialists, our professionals know how to clean dryer ducts well and save you the trouble.
Don't Let Your Dryer Ducts Block!
Call us for dryer duct cleaning the minute you sense your clothes do not dry well enough, the cycle takes too long to finish or the appliance is overheated. These are the main indications that the vents are filled with dirt and lint and must be cleaned. In order for the clothes to dry, the appliance produces hot air which circulates and escapes through the vents.
Overtime, the ducts become dirty and that's why the service of Air Duct Cleaning in Albany is required. Dust coming from outside and lint coming from the clothes fill up the vents and the appliance cannot breathe anymore. Air cannot escape or circulate properly and that's why the clothes don't dry well and the appliance is heated up.
Call for Dryer Vent Cleaning Now
Avoid problems resulting from blocked dryer ducts by trusting our services. Our professionals provide dryer vent air system cleaning and are equipped with the right tools in order to remove the filth accumulated in the ducts. With the vents cleaned at least once a year and depending on how often you use the appliance, fires are avoided and you consume less energy since the appliance works better.
We have the equipment and experience to guarantee full removal of the debris built up in the ventilating pipes and can help you avoid problems.
Is There A Nasty Musty Odor In The Laundry Room?
Don't use the dryer before consulting with our professionals. We clean dryer ducts immediately and can also replace air duct filters and the entire vent system. Call to ask for our quotes and discover how frequently dryer vents must be cleaned. Let us offer our opinion and assistance, especially if you use the dryer twice a week and the vent is pretty long. The longer the vent the more often must be cleaned.
Cleaning dryer vents is the specialty of our team and the only way you can avoid fires and similar problems. Thanks to the expertise of our professionals and our good work, you don't have to worry about such issues or be concerned about the condition of your dryer. Do you want more information about our dryer duct services? Don't hesitate to speak to our staff or send us a message.