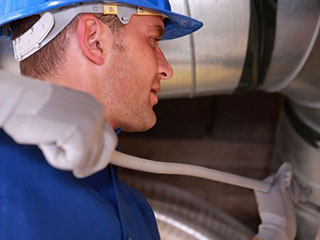 Residential air duct cleaning is something that may be very important for your household and your overall living environment. Even though Environmental Protection Agency states how HVAC systems should only be cleaned if the visual inspection of inner part of HVAC system reveals the concentration of pollution or if your household members start to show the signs of allergy and disease, we from Air Duct Cleaning Albany still believe that home air duct cleaning is something that should be done regularly.
Clean Your Air Duct System Once In Three To Five Years
We don't invite you to clean your air duct systems each month but we recommend time frames from three to five years and of course more frequently where you or your family members suffer allergies and especially if someone has asthma. If this is the case then your residential air duct cleaning must be imperative and first step toward healthier, pollutant and odor free environments.
Hire Our Techs To Clean Your Air Ducts
We from Air Duct Cleaning Albany know the best how much home air duct cleaning and HVAC systems with all its specifications, features and characteristics are still rather unexploited field and territory. Various organizations like Environmental Protection Agency, NADCA – the HVAC inspection, maintenance and restoration association and similar work every day trying to figure out all there is behind these systems and industry. They try to educate residential air duct cleaning professionals as well as consumers on how to approach the matter and what attitude to take with regards to it. We know all this might be a source of great headache for you and especially these days when you practically have no time to spare. That's why we are here at your service all day every day.
We love the fact that we can help you and when you choose us as your residential clean air company we go all the way to prove to you how good we are and to leave you with best possible results and nothing else but high quality and clean indoor air.
Indoor Air Quality Is Our Goal
When you schedule an appointment with us we always reply within minimal waiting times. We are very serious when it comes to clean air and that's why we don't want you to wait a minute longer than necessary. When it comes to HVAC systems that require cleaning we know that they may be great source of pollution and disease and we don't take your health easily.
We are not trying to convince you that there is this terrible hazard to you and your family members that might struck you and your family from one moment to another. However we do know that HVAC systems may contain lots of germs and pollutants that definitely don't contribute to your indoor quality. We wish to help you get cleaner air and better indoor air quality so after you hire as to do air duct servicing for you we really do impeccable job.
Our Friendly Staff Is Always Ready To Give You Advice
We have highly trained and professional technicians and specialists who never leave your house without an useful advice on how to maintain your HVAC duct system, what do to in case you suspect you need HVAC system cleaning again and what indicators you should be careful about. We also always come to your home accompanied with our company's vans and loaded with latest powerful technology and vacuum cleaners. In fact we are always ready to clean your air duct systems, all you have to do is to contact us via mail, phone or in person!